Greatest footballers from the Maghreb
Football is not only a game in North Africa, it is a way of life. Across the region, national teams have produced stellar players that shined on the global stage.
Here are some of the best known players that have ever played for Algeria, Morocco, and Tunisia.
The list is not in any particular order since it is almost impossible to quantify objectively any ranking.
Mustapha Hadji
Mustapha Hadji represented morocco in two African Cup of Nations (1998 & 2000) and two World Cups (1994 & 1998). He scored a legendary goal against Egypt in the African cup in 1998, and another against Norway in France 1998 World Cup. Hadji was named the African footballer of the year 1998.
Badou Zaki
Badou Zaki is one of the best African goalkeepers ever. Badou Zaki won the African footballer of the year award in 1986. He represented Morocco in 1984 Summer Olympics, four African Cup of Nations (1980, 1986, 1988 & 1992) and led the Atlas Lions to the 1986 World Cup where they narrowly lost to West Germany in the second round.
Mohammed Timoumi
Mohammed Timoumi is one of the best Moroccan players of all time. Mohammed Timoumi won the African footballer of the year award in 1985 and came fifth in 1986. He was in 1980 and 1988 African Cup of Nations. He represented Morocco in 1984 Summer Olympics, 1986 World Cup and won the CAF Champions League with the Moroccan club (FAR Rabat) in 1985.
Ahmed Faras
Ahmed Faras was the best player in Ethopia'76 when they won their first ever African Cup of Nations; he's the best Moroccan player of all time. He was the fifth African Player of the year from 1972 to 1974 before winning it in 1975 only to retain his traditional fifth position in 1976. He represented Morocco in three African Cup of Nations (1972, 1976 & 1978) and was in the 1970 World Cup.
Laghdar Belloumi
Lakhdar Belloumi is regarded as one of the greatest Algerian football players ever and one of Africa's finest.
He is voted the fourth best African player of all time. With 100 national caps (147 not recognized by FIFA), he is the most capped Algerian player of all time, as well as the third best goalscorer of the Algerian national team with 28 goals (34 goals not recognized by FIFA). Algeria beat reigning European champions West Germany 2–1 in their World Cup debut in Spain in 1982, thanks to Belloumi's strike.
Rabeh Madjer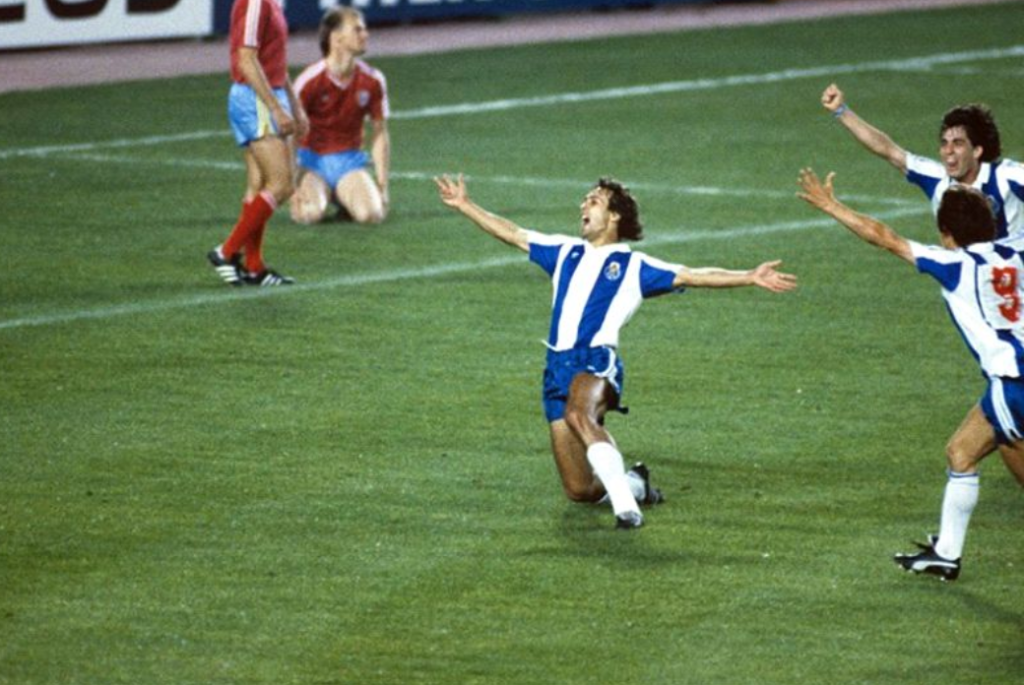 Rabah "Mustapha" Madjer is an Algerian striker who played for the Algerian national team. He rose to prominence as a Porto player in the 1980s and is generally regarded as one of the greatest Algerian players in football history.
During his six years with the club, he won nine major trophies, including three national championships and the 1987 European Cup. Madjer, one of Algeria's most prolific internationals in terms of games and goals, represented his country in two World Cups, leading it to its first appearance in 1982. Madjer's most successful goal came in Algeria's 2–1 World Cup victory over Germany
Riad Mehrez
Mehrez is one of the most successful Algerian players ever. Having won the Premier League on three separate occasions. One of these included the most famous underdog victory in football too, when Leicester managed to win the Premier League with Mahrez back in 2016. The other two came with his current club, Manchester City.
Playing as a winger, he gives both Algeria and Manchester City the speed they need down the touchlines, and to wrap it all up, Mahrez is a two-time winner of the 'Algerian footballer of the year' award.
Tarak Dhiab
Tarak Dhiab is the African Footballer of the Year in 1977, he is listed by the Tunisian Football Federation as having 107 caps for the Tunisian national football team, although this number has not been ratified by FIFA. At the 1978 FIFA World Cup, he was a member of the Tunisian national team that was the first national team from African to win a World Cup match. Tarak Dhiab was chosen The Tunisian footballer of the 20th century.
Chokri El Ouaer

Chokri El Ouaer began playing for Espérance Sportive de Tunis in 1986, spending his entire career there except for a six-month spell in Genoa in 2001, near the end of his career. He earned over 100 caps, but his total is not recognised by FIFA.
Hatem Trabelsi
Hatem Trabelsi has represented the Tunisia in three World Cups (1998, 2002 and 2006), gaining a total of 66 cap from 1998 to 2006. He was a part of the national team's 2004 African Nations' Cup winning team. He spent 6 years with Ajax Amsterdam from 2001 to 2006. He has also played for CS Sfaxien, Manchester City and Al-Hilal Riyadh.